Set up in 1990 by the founding partners Inge Kappler and Michael Meier, Chromsystems has evolved into one of the top names for routine clinical diagnostic applications.

Until the late 1980s, high performance liquid chromatography (HPLC) was a complex procedure calling for years of experience, extensive expertise and major financial resources. The method was therefore considered unsuitable for routine applications and for many years was accessible only to specialists. Then, in 1990, Chromsystems helped to put HPLC on the map as an easy-to-use method for routine clinical diagnostic procedures by introducing reliable, simple applications and an extensive system of customer support. Today, any diagnostic lab can use HPLC for routine applications and obtain precise results, with no specific prior experience required. As a result, clinical diagnostic labs can now avail of the specificity, reproducibility and reliability of HPLC on a large scale.

Complete user kits and optimum service, it's a combination that gives each Chromsystems customer access to a simple HPLC method that produces accurate results. Chromsystems is committed to providing customers with knowledge and expertise round the clock. Our customer focus ensures that buying a Chromsystems product is the beginning of a long and faithful partnership.

Chromsystems launched four reagent kits for biogenic amine analysis in 1990. The product range grew to encompass an extensive range of products for ten areas of special laboratory diagnostics. Twenty years of systematic development and stable growth have consolidated our corporate structures and vindicated the concept that brought Chromsystems to life. With a global network of staff and associates providing expert customer support, Chromsystems sets standards in service and quality in Germany and more than seventy countries around the world.

In addition to local support services, each customer has access to expert advice 24/7 by hotline or e-mail. Regular seminars and lab demonstrations at company headquarters in Munich give participants the latest information in addition to invaluable practical tips. Demonstrating and sharing expertise is our philosophy.

Clinical diagnostics is an area where requirements and standards are constantly rising. We keep up to speed by continuously reviewing, upgrading and adding to our products and methods. It's all part of our aspiration to give you the best technology for every application.

In keeping with these aspirations, Chromsystems invests on a continuous basis in new and improved products using state-of-the-art technologies like LC tandem mass spectrometry. Chromsystems gives you access to this new domain, true to the company's concept of providing technology that's designed for routine applications. As well as giving you access to conventional HPLC diagnostic applications, our concept also equips you to use special applications for LC-MS/MS such as newborn screening and TDM (therapeutic drug monitoring).

Chromsystems invests the growth that comes with these innovations in the continuous expansion and improvement of our infrastructure and sales and service network, bringing service and market leadership ever closer and taking you into new areas of clinical diagnostics with the support of the service and quality you get from Chromsystems solutions.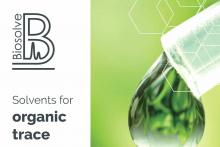 BIOSOLVE SOLVENTS FOR ORGANIC TRACE ANALYSIS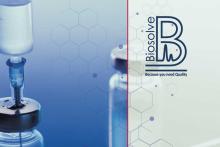 BIOSOLVE UCL / MS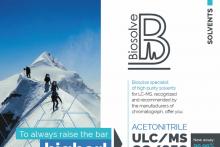 BIOSOLVE ACETONITRILE ULC/MS – CC/SFC
Seguici su LinkedIn per non perdere le novità